Kitchen Trends for 2023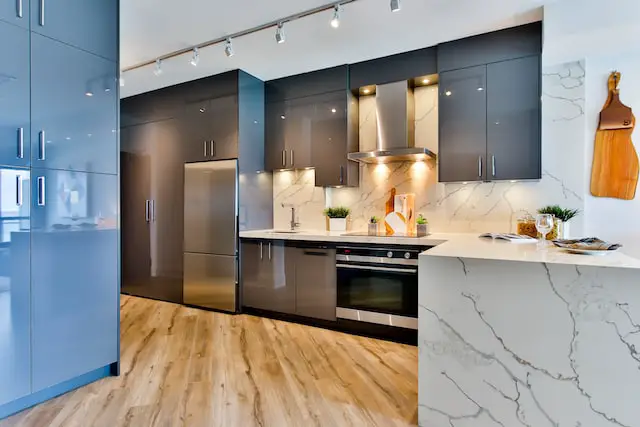 As 2023 has just arrived, interior designers are predicting some exciting new trends for kitchen design. The use of backless stoves, open-concept design, and darker colors are some of the current design trends that are gaining popularity. Granite countertops, gray cabinetry, and open shelving are becoming less popular as homeowners look for more modern options.
Upgrading your kitchen is a big decision and an investment that can be intimidating. However, 2023 could be the perfect time for making changes and improvements to get the kitchen you've been dreaming of cooking in.
You'll need to consider disruption while work is underway, but it will all be worth it in the end when you have a beautiful new kitchen that reflects your style and personality. Keep reading to get up to speed with all the latest kitchen trends for 2023!
Darker Hues Are in
As consumers shift away from an all-white appearance, darker tones are becoming increasingly fashionable in white kitchens.
Homeowners like to use darker tones in their kitchens as a design element, and they are starting to see the benefits of doing so, such as making the room look cleaner and more timeless.
Mixing cabinets of a deeper color with countertops of a lighter hue or the reverse—light cabinets with dark counters—is one of the kitchen design ideas that is likely to remain popular for the foreseeable future.
Homeowners may get a one-of-a-kind design that is not only fashionable but also enduring.
Backless Stoves Will Take Center Stage
Interior designer Sarah Bowen predicts that backless stoves will be a popular trend in 2023. This is due to the desire for a seamless look in the kitchen as well as the ability to create an inviting atmosphere with proper lighting design.
Stone slab backsplashes are often used to complement the backless stove design, and lighting is a key element in interior design that can make or break the look and feel of a space.
In 2023, kitchen lighting trends will focus on creating an appealing atmosphere while making the most of available resources. This means that light fixtures should be carefully chosen to make sure they give off enough light without being too bright.
In addition, places that require additional light, such as countertops and islands, should be highlighted with the use of lighting designed specifically for that purpose. With these elements combined, homeowners can create a beautiful kitchen with a modern aesthetic that stands out from traditional designs.
Gray Cabinetry Will Lose Its Dominance
Gray cabinetry has been a popular choice for kitchens over the past decade, but its stronghold is beginning to fade.
Colorful cabinetry is becoming more popular as homeowners look to make their kitchens stand out. Neutral finishes are being used to ground bolder palettes, and warmer tones like taupe, beige, tan, brown, and warm wood are becoming more popular.
To stay on trend with a neutral kitchen, opt for a warm gray or greige, such as Sherwin Williams Repose Gray or Behr Perfect Taupe.
The shift away from gray cabinetry is part of a larger trend toward creating unique and personalized spaces in the home. Color and texture are two ways that homeowners are seeking methods to show their own personal tastes in their homes.
By incorporating pops of color into the kitchen with colorful cabinetry or accessories, homeowners can create an inviting space that reflects their personality. With so many options available today, it's easy to find something that fits your style while still keeping up with trends.
Uncovered Appliances Will Be a Popular Choice
The trend of uncovered appliances is quickly becoming a popular choice in kitchen designs. Interior designer Devin Shaffer predicts that this will be the go-to look for 2023.
Appliances have become stylish, and hiding them is now seen as a dated design solution. Homeowners who are in the process of updating their appliances should give some thought to displaying them in plain view.
Installing a microwave over the range is no longer the standard, and making a design feature out of the space above your range is preferable to using it for an appliance.
Open-Concept Kitchens Are Trending
Open-concept kitchens have been a popular trend in interior design for some time, but the COVID-19 pandemic has only increased their popularity.
Homeowners are drawn to open-concept kitchens because they provide an inviting atmosphere for entertaining and socializing. Many people are also adding enclosed prep or chef's kitchens off the main area to their open-concept kitchen designs, allowing them to keep their cooking space separate from the living room.
Having a kitchen that is distinct from the living room is becoming more popular as it allows homeowners to create a more organized and efficient space for cooking and entertaining.
Modern White Kitchens Will Be Less Popular
People are gravitating toward warmer designs that may evoke a sense of warmth and coziness in their homes, which is one reason why contemporary white kitchens are losing popularity.
It is anticipated that the counters made of stainless steel and the backsplashes made of plain subway tile will be replaced in the near future with materials that give the kitchen a feeling of coziness.
It's becoming more common to incorporate darker tones into otherwise all-white kitchens. This can be accomplished in one of two ways: either by combining cabinets of a darker color with countertops of a lighter color or by doing the reverse, which would be light cabinets with dark countertops. Either way, the result is a more inviting space.
Open Shelving Could Be Dwindling
Open shelving has been a popular trend in home décor for the past few years, but it appears to be waning in popularity. Open shelving can be difficult to maintain and impractical for certain items, such as heavy dishes or fragile items.
As a direct consequence of this, an increasing number of homeowners are selecting more conventional cabinetry solutions instead. Gray open cabinetry is losing its popularity in kitchens, with colorful closed cabinetry becoming more popular. Neutral finishes are being used to ground bolder palettes in the space.
It is difficult to predict if open shelving will still be fashionable in 2023, although the trend's popularity is unquestionably on the decline. Homeowners are looking for practical solutions that don't require constant upkeep and maintenance.
Cabinets provide an easy way to store items while also creating a visually appealing look in the space. With so many options available, it's no wonder why open shelving is slowly fading away from the home décor scene.
Granite Might Become a Dated Option
Granite has been a popular choice for kitchen countertops for many years, but it appears that its time in the spotlight may be coming to an end.
This is due to the emergence of quartzite and porcelain as more subtle yet beautiful alternatives. Granite, with its large speckled grain, is now seen as outdated, while marble remains the more high-end, timeless option.
It is essential to take into consideration how long you want your countertop to last before making a material selection. Granite colors come and go, so if you want something that will stay current for longer, then opt for something more contemporary.
Marble, on the other hand, is classic and timeless, so if you're looking for a luxurious finish that won't date, then this could be a perfect choice. Ultimately, there are plenty of options available when it comes to kitchen countertops—just make sure you choose the one that best suits your needs.
Wrapping Up
In conclusion, the primary emphasis of the kitchen trends for 2023 will be placed on the development of a sense of coziness and warmth inside the room.
The trend away from all-white kitchens and toward darker colors continues, as open shelving gives way to more functional cabinetry alternatives in the kitchen. Quartzite and porcelain aren't the only stones seeing a decline in demand; granite is too. Stay on trend and opt for a marble finish.Better yet, check out Cook After Me here and never miss any kitchen or recipe updates.