Recipe Ideas for Romantic Dinners. Especially for Valentine's Day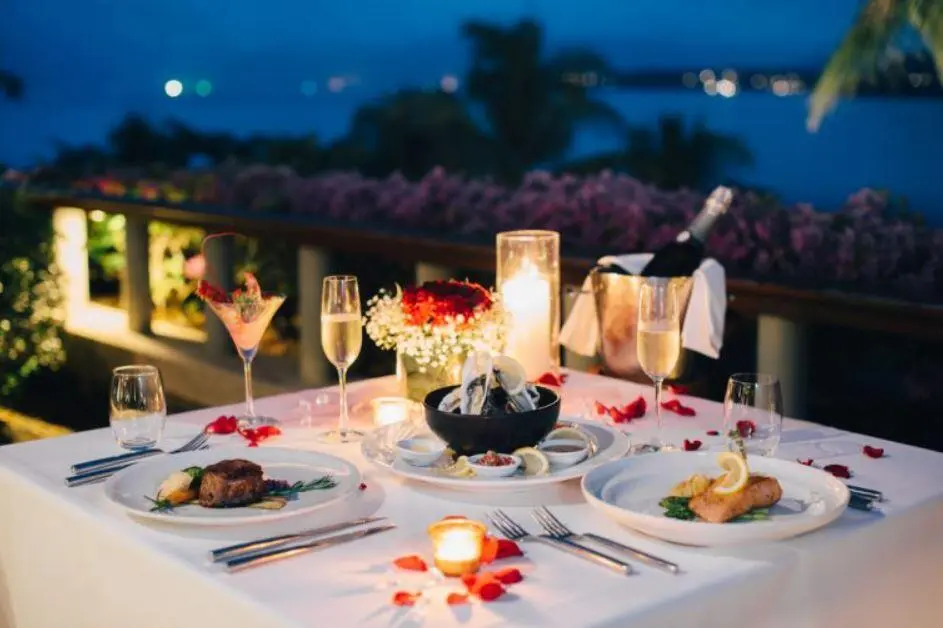 It is said that love also passes through the stomach and a shadow of truth may exist in this statement. What is certain, however, is that one of the most romantic gestures you can make for your partner is to cook for him/her. I have thought to give you some examples of recipes when you want to prepare a special romantic dinner.
---
What you'll find in this article…
---
Attention to
Details
Cook carefully, paying attention to detail. To think that every knife cut, the sizzling of the pan, the delicious flavors, even the drop of salt sprinkled on the food are tender gestures, meant to conquer. If we start cooking our romantic Valentine's Day dinner with these ideas in mind, for sure will be a success. Gentlemen, in particular, should know that a man who cooks for his girlfriend/wife is very sexy, therefore, this article is for them too.
What ingredients you
should 
avoid on a romantic dinner?
It is best to avoid beans and other legumes. The reasons are obvious, practically, it would be good to avoid anything that causes bloating. Other ingredients to avoid are garlic and onions (as much as we like). Obviously, french fries and pickles have nothing to do with the idea of a romantic dinner, nor sausages, soups, or stews. But let's take them step by step:
Beans
Beans, beans, they're good for your heart; the more you eat, the more you — well, you get the drift. Although just a cheeky ditty, this childhood rhyme serves as a good reminder that eating beans — which contain a complex sugar, oligosaccharide, that's almost impossible to digest — can result in flatulence. And let's face it. A toot is never cute.
Garlic
Everyone knows that garlic causes bad breath but what you might not know is that the smell can haunt you for hours. And hours. When you eat garlic, it produces sulfur-containing gases that are absorbed into your bloodstream during the digestive process. Once there, they can exude through your pores and also pass into the air inside your lungs. And that's why even after the first round of bad breath, the foul odor can present itself again hours later, even after you've brushed your teeth.
Hot Dogs
Although this summer favorite might seem sexily suggestive on the surface, chowing down on wieners is actually not conducive to between-the-sheets action. The humble frankfurter's high saturated fat content clogs the penile and vaginal arteries, making this anything but a romantic treat. Processed foods in general should be avoided before a hot date as they can drain your energy and make you feel sluggish.
French Fries
Who doesn't like fries? No one. And yet you might want to skip this snack before a date. This overly processed food with a very high glycemic index may cause an energy spike — at first. But very quickly your energy level will drop, leaving you feeling sluggish. Another downside? Their saltiness increases water retention and bloating.
Kimchi
This global favorite's pungent odor is so offensive it warrants its own label. Look at the online Urban Dictionary and you'll find a listing for Kimchi Breath, defined as a "sour smell coming from the mouth, most often associated with the Korean dish made from fermented cabbage." If you're a fan of this traditional dish made by salting cabbage leaves and covering them with garlic, ginger, and red pepper paste, make sure to drink plenty of water while eating it. Not only does water lubricate your mouth, which keeps odor-causing microbes at bay, but it also washes away many of kimchi's fermented food particles.
Dairy Products
Many of us have a tough time breaking down milk, cheese, and other dairy products — because they contain the enzyme lactase — so you might want to forgo eating, say, macaroni and cheese the day of a date in order to prevent gas and bloating at night. Dairy products also contain a mucus-forming agent that can cause nasal congestion. Not sexy.
Recommended recipes, foods, and drinks for a romantic dinner
A good wine should not be missing from a romantic dinner. And it must be a wine of excellent quality, whose enjoyment must be a memorable experience. Regardless of whether the wine will be red or white, you can also choose champagne or prosecco. In general, red wine goes well with red meats, maturated cheeses, and chocolate. White wines go perfectly with fish and seafood dishes and champagne goes well with oysters.
2. Pasta, an Italian romance
The first recommendation is the spaghetti carbonara. Strange as it may seem, it is a dish that may not be sumptuous enough, but it is one that fits perfectly with a good glass of red wine. And these spaghetti carbonaras have another quality: they contain ingredients with a long maturation time (pecorino, parmesan, guanciale), which develop substances that have the ability to determine a lot of pleasure.
As long as the fish is served with vegetables that do not cause bloating, it will be perfect. Or better yet, how about pasta with seafood?
So many dishes with beef as the main ingredients, so little time, right? Well, I would recommend the Marinated Greek Beef Flank Steak with Yogurt Sauce. But u can select any other beef recipes that look and taste good. Remember, the design of the dish is very important, so, pay attention to details.
5. The dessert, to finish the romantic dinner with more sweetness
It's very simple with dessert: the sumptuous, mysterious, and delicious chocolate, is the most recommended for dessert on a romantic dinner. Whatever you prepare with chocolate, choose one of very good quality. The quality of the chocolate directly influences the success of your dessert.
Another great idea for dessert are the strawberry based recipes, but be careful what recipe you'll choose for dessert.
Especially for Valentine's Day?
Valentine's Day is the best day spent with your partner, and dinner on 14 February is the most romantic of all. If you read the Wiki article about Valentine's Day, you'll find:
The Feast of Saint Valentine was established by Pope Gelasius I in AD 496 to be celebrated on February 14 in honour of Saint Valentine of Rome, who died on that date in AD 269. The day became associated with romantic love in the 14th and 15th centuries when notions of courtly love flourished, apparently by association with the "lovebirds" of early spring. In 18th-century England, it grew into an occasion in which couples expressed their love for each other by presenting flowers, offering confectionery, and sending greeting cards (known as "valentines"). Valentine's Day symbols that are used today include the heart-shaped outline, doves, and the figure of the winged Cupid. Since the 19th century, handwritten valentines have given way to mass-produced greeting cards. In Italy, Saint Valentine's Keys are given to lovers "as a romantic symbol and an invitation to unlock the giver's heart", as well as to children to ward off epilepsy (called Saint Valentine's Malady).
Valentine's day began as a feast, and only in the 14th century, it was linked to love and feelings. Therefore, a romantic dinner (feast along with your partner) on 14 February will be perfect to let your partner know how much you love him/her.
Choose a great decor or landscape for your romantic dinner
The landscape is very important for a romantic dinner. The outdoor romantic dinners have almost 100% success, therefore, choose your landscape wisely, but don't be nervous. On Valentine's Day, however, you cannot take your partner outdoor, and both freeze like popsicles. Therefore, home decor should be the key to his/her heart. You will find on Pinterest lots of ideas for a romantic night.
---