Tips and Tricks to Keep a Clean Kitchen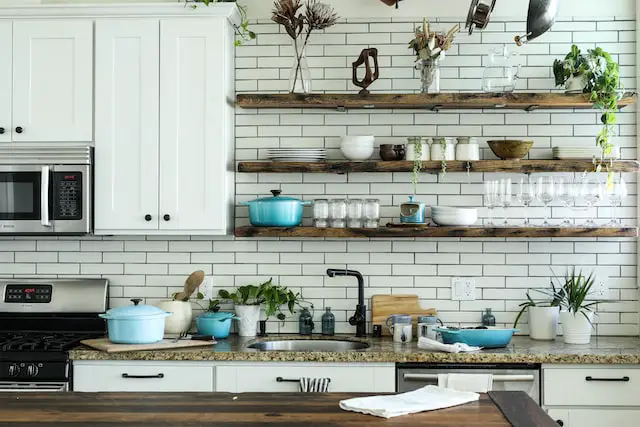 It seems like there is never going to be enough time to clean up all of the grease patches and debris in the kitchen. It's not like you can just shut the door and ignore it the way you would be able to do with a cluttered bedroom.
When your kitchen is filthy, it permeates every other aspect of your time at home as well. The mess bothers you throughout the day, from the time you have your first cup of coffee in the morning to the time you steal a handful of cereal on your way to bed.
You probably make a new resolution almost every day to do something about it, but you know that it will take a long time to do anything. However, that should not be a prerequisite in any way.
Once you get into the habit of using these guidelines to maintain a clean kitchen, you'll notice that it continues to look better throughout the week. The more of them you put into action, the less frequently you will need to clean or scrub the surfaces in your kitchen.
Very soon, you'll be relishing that morning cup in a kitchen that you're pleased with! Keep reading to find out what tips and tricks you can use to get your kitchen where it needs to be.
1) Use Your Sink
No matter how careful you are, there are certain jobs in the kitchen that will always make a mess. For instance, spraying culinary utensils with cooking spray, weighing out ingredients, or ladling soup into bowls for serving.
If you find that washing the countertops after each meal is a chore you'd rather avoid, try doing the abovementioned activities over the sink in the kitchen instead. After that, you should wash the spillage away immediately.
2) Cover Countertops
Make sure to utilize a cutting board while you are chopping veggies. Prepare raw meats by placing them on a rimmed baking sheet, which can then be cleaned in the dishwasher after use. Roll out any pastry or dough that you'll be using on top of parchment paper or a silicone mat for baking.
Your countertops will maintain their cleanliness if they are covered before use every time you chop or prepare food on them.
2) Make Use of a Bowl for Scrap
When you're cooking, putting leftovers from the kitchen in a bowl to collect minimizes the likelihood that you'll drop them on the ground. After you've finished eating, take any leftover scraps from your meal and add them to a compost pile, if you have one.
Composting is good for the environment, but alternatively, you might put the veggie scraps in the freezer so you can utilize them for stock at a later time.
4) Make the Chore of Cleaning Dishes Less Laborious
If it's too much trouble to deal with the dirty dishes and cutlery, they'll build up in the sink instead of being cleaned.
After you have finished supper, start the dishwasher and make sure it is empty before you go to bed. This will ensure that your sink is clean when you wake up in the morning.
Don't own a dishwasher? After supper, take some time to relax and put the dishes that you just washed by hand on a rack to dry. Using a drying rack and packing the dishes away in the morning will split up the task and be less time consuming.
5) Cover Food Properly
Cleaning your microwave regularly is a chore. It's also inefficient to use a paper towel to cover food in a microwave since the towel does not always remain in place.
If you need a cover that doesn't move, try using a plate or a dish inverted on its top side. You could also invest in an affordable splatter screen for your microwave.
6) Put an End to Splatters on the Stovetop
Have you ever chosen not to make particular dishes because the resulting grease splatters would cover your kitchen in a layer of grime?
You don't have to remove such dishes from the menu if you don't want to. Make use of a wire splatter guard in the event that you are unable to cover the pan while it is being used for cooking. After each usage, either place it in the dishwasher or give it a quick wash before putting it away.
7) Place Coasters Below Jars and Condiments
By placing coasters that can be cleaned under condiments, you may prevent spills and keep your shelves from looking messy.
They are an excellent tool to employ when working with sticky substances such as honey or syrup, which can cause the shelves of a pantry to get soiled. The only thing that needs to be done to clean the pantry is to wash the coasters and wipe down the shelves, rather than scrub them.
8) Make Use Of Liners
The shelves and drawers of the refrigerator are much easier to clean if they are lined. Try using cling wrap or clear shelf liners on the shelves.
Drawers lined with newspaper or paper towels keep food fresh for longer. However, you shouldn't stop with just the shelves!
Tea towels may be used to catch dust on the top of your refrigerator too, and then laundered every two to three weeks.
9) Dedicate Five Minutes Every Day Tidying Up
Keeping a cloth and any kind of non-toxic cleaning spray beneath your sink will make it much simpler to pick up after yourself. Spray disinfectant on a cloth and wipe off the fronts of all of your appliances, as well as the tabletop and any free area on your countertops, once daily.
After the cloth has been wrung out and some soap has been added to it, you should quickly wipe down the sink to complete the cleaning process.
10) Catch Oven Spills
Using aluminum foil on the bottom of your oven is almost certain to violate the guarantee on your home equipment as it's a fire hazard. That does not imply, however, that you are obligated to put up with baked-on mistakes.
Cleaning your oven isn't an easy task, so let's learn how to avoid doing it too often. Put a silicone sheet or metal baking tray on the rack underneath anything that is likely to spill while it is cooking, such as a casserole, frozen pizza, or lasagna.
After the cooking process is complete, remove the sheet or tray from the oven, wait for it to cool down, and then place it in the dishwasher.
11) Garbage Can Is Easily Accessible
The garbage can should not be stored under the sink in the kitchen since it is the least convenient location. When you can't get to it easily, you end up leaving things on the counter, which makes it easy to forget about them later.
If you switch to a stand-alone garbage can with a foot pedal instead of a hand crank, you won't need to empty it as frequently.
Are the smells coming from the garbage can making you uncomfortable too? Put some newspaper that has been dusted with baking soda in the bottom of the container so that any drips may be collected. Whenever you take out the garbage, make sure to change it.
12) Simplify Your Floor Sweeping And Mopping Routines
When you use a broom and dustpan, you will cause dust to fly all over the room and leave a trail of debris behind you. Instead of a traditional broom, try cleaning the floor with a vacuum or a handheld vacuum that does not require a cable.
If you run it every night at the base of the cabinets and beneath the table, your kitchen will always give the impression that it has been cleaned.
Wrapping Up
The most efficient method for maintaining a clean kitchen is to take measures to reduce the likelihood of messes occurring in the first place. Make the process of cleaning up those inevitable messes, such as stains and spills, as simple as possible so that you can get things under control more quickly.
All you need to do is spend a few minutes every day doing a little bit of tidying up, and your kitchen will give the impression that it is spotless all the time.
For more kitchen tips and recipes, check out Cook After Me right here.