What to Do with Leftover Pasta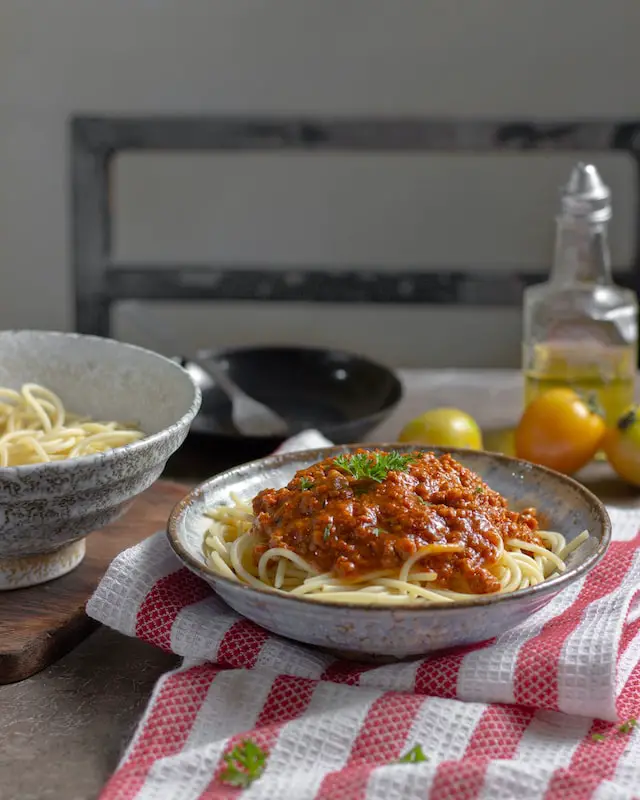 If there's one cuisine that is loved by everyone in the family, it's Italian, especially when it comes to pasta!
No matter how big the portion is, everyone can't seem to get enough, and yet somehow we still left with two servings of cooked pasta.
So when we have leftover pasta in the fridge, it's an opportunity to breathe new life into it and make an entirely new dish.
Besides, you don't want to waste good pasta because you left it in the freezer for too long.
According to Healthline, fresh homemade wheat pasta can last up to five days, while store-bought wheat pasta lasts for three days.
Pro tip: If you have leftover pasta, make sure to store it in an airtight container to keep its flavor and texture.
The Best Way to Reheat Leftover Pasta
The best way to reheat leftover pasta is in a saucepan on the stove, but if you don't have time to cook or if you want your pasta to be extra cheesy, you can use the oven.
Reheating pasta on the stove:
To reheat pasta on the stove, follow these steps:
Put 1 tablespoon of olive oil into a pan or pot and place it on the stove over medium heat.
Add the pasta to the oil and stir it around.
Put some vegetable or chicken stock or water in the pan, cover it with a lid, and let it simmer for 5 minutes, stirring every now and then.
Drain the pasta and season with salt and pepper, then serve.
Reheating pasta in an oven
Here's how to reheat pasta in an oven:
Preheat the oven to 350 degrees F and lay out your pasta on a baking tray.
Add some salt and pepper to the pasta and drizzle some olive oil over it. You can also add cheese and garlic for the best results.
Heat the pasta in the oven for about 10 minutes, or until it is to your liking. If you add cheese, bake until the bread is golden and the cheese is melted.
Serve and enjoy.
What to Do With Leftover Pasta
Pasta is like magic; with some creativity, you can easily make a tasty supper using last night's leftovers. Plus, you only need minimal effort and a few simple ingredients from your kitchen cabinet.
Some of our favorite ways to put leftover pasta to good use are listed below.
Tasty Pasta Salad
Who doesn't love the fresh greens and filling carbs of a pasta salad? This lunchtime favorite is quick and easy to whip up at a moment's notice, especially when you've already got some leftover pasta.
Healthy, flavorful, and ready in 15 minutes, it's under 500 calories. Mix and match your favorite veggies. Check out the full recipe here.
Pasta bakes
If you have any leftover filled pasta, like ravioli or tortellini, baking them in a casserole dish is a delicious option.
Here's how you do it:
First, you make a simple white sauce (or just use your leftover red sauce).
Then follow with the vegetables and the cheddar cheese or other grated cheese.
Bake in an oven that has been warmed to 350 degrees Fahrenheit (180 degrees Celsius) for twenty minutes, or until the cheese has melted and the dish is heated all the way through.
Cheesy pasta frittata
On to our following recipe, which really champions leftover pasta. You can say this one is so good because it is made from last night's lasagna. It's a cheesy pasta frittata.
With only essential ingredients, you can magically turn last night's dinner into today's lunch by following these steps:
Start by lightly beating five or six eggs using forks.
Avoid using a whisk because you're going to whip a lot of air into it, and it will turn into a soufflé texture, which is bad because the soufflé won't be able to hold the dense leftover ingredients, and the whole thing will crumble.
Chop your cooked vegetables into small to medium pieces. Then, combine them with the eggs.
Now take out the leftover lasagna from the freezer. You'll need to chop them up before you add them to the eggs and vegetable mix.
Next, you want to add some freshness. We love chives and parsley because they're perfect cheese companions. Add cheese, salt, and pepper. Then, mix everything together with a fork.
After the butter's all melted, pour your ingredients into an oven-safe pan. Wait until the bottom is cooked, then put it in the oven for 10–15 minutes or until the center is set.
Pasta bruschetta
Bread and pasta are a heavenly duo. You can easily make pasta bruschetta with leftover cold pasta.
Follow these steps for some carb-heavy, cheesy bruschetta:
First, pour your leftover pasta in a bowl. Add mozzarella and basil pesto. Mix everything together.
Get two slices of sourdough bread and fill them with your pasta mix. You can add more mozzarella cheese if you want (trust us, you do).
Then, bake in a preheated oven at 240 °C (460 °F) and grill for ten minutes.
Done! It will make an ideal menu for brunch.
Pasta pizza
Oh, yeah. Pasta pizza is a thing. Turn your favorite Italian meal into your other favorite Italian dish by following these steps:
Take your leftover pasta and spread it on a baking sheet. Ensure you spread it well so that the pizza will cook evenly.
This is our favorite part: adding toppings! Pepperoni, mushrooms, olives, and bell peppers
Sprinkle mozzarella cheese on top and bake for 15 minutes at 350°F (180°C).
Spread a red pasta sauce, and you're done. The bread and the cheese, mixed with fresh marinara… Oh, mamma mia!
Pasta-stuffed omelet
Another easy recipe to cook leftover pasta This amazing pasta-stuffed omellete is the ultimate leftover recipe using only extra food in the fridge.
Here's the recipe:
To begin, beat four eggs in a bowl. The taste may be improved by adding salt and pepper.
Using a medium heat setting, melt some butter in a skillet that won't stick.
Next, the eggs should be poured into the pan and cooked until the edges begin to firm.
Meanwhile, mix together your leftover pasta with some grated cheese, chopped herbs, and a pinch of salt and pepper.
When the omelet has finished cooking on one side, divide it in half and spoon the spaghetti mixture into one half.
Cover the other side and continue cooking for a few more minutes.
Put the omelet on a platter and dig in.
Pasta quesadilla
If you happen to have tortilla wraps in your pantry, you can make a delicious and cheesy pasta quesadilla. Follow these steps to try it yourself at home:
Get a tortilla wrap and spread the leftover pasta on one side. Add grated cheese.
Fold over the other half of the wrap to form a quesadilla.
After a few minutes in the oven, the cheese should be melted, and the wrap should have a golden brown color.
To add even more kick to the dish, serve it with a side of guacamole or salsa. Enjoy!
Pasta and egg muffins
Use up those extra eggs in the fridge with these delicious pasta and egg muffins. This is a great recipe that will help you feel fuller longer before a busy day.
Ready? Let's go:
Bring the oven up to temperature, preferably to about 350 degrees Fahrenheit (180 degrees Celsius).
Grease a muffin tin with butter or oil.
Mix together the leftover spaghetti with the eggs, cheese, and seasonings.
Put the batter in a muffin tin and bake for 15–20 minutes.
No matter how irresistible they are, don't eat them until they've cooled down.
Mac and cheese balls
Macaroni and cheese balls are perfect for weeknight meals. These cheesy, deep-fried balls of deliciousness need some time and effort to prepare, but they are well worth it in the end.
Follow these steps to make deep-fried mac and cheese balls:
Start by combining your cooked macaroni with grated cheese, breadcrumbs, and chopped herbs.
Mix everything until it has the consistency of dough.
Make small balls out of the mixture and roll them in more breadcrumbs.
Heat some oil in a pan over medium heat, and fry the mac and cheese balls until they are golden brown.
One bite and you can taste the crisp, golden skin, while the insides are soft and full of melted cheese.
Don't stop there! Serve them with some marinara sauce for dunking.
Baked Ziti
This cheesy casserole is sure to please the entire family, and it's so simple to make that anyone can do it.
To make it yourself, follow these steps:
Begin by layering cooked ziti noodles with ricotta cheese, mozzarella cheese, tomato sauce, and any additional toppings desired (such as mushrooms or spinach).
Bake for 20 minutes, or until the cheese is melted and bubbly, at 350°F.
You Can't Go Wrong With Pasta
Pasta is one of the most versatile ingredients in the kitchen. With just a few basic ingredients, you may create mouthwatering dishes that will be the talk of the dinner party.
So, the next time you have leftover pasta, you know what to do. Step one: get creative and read through our recipes for inspiration. Step two: whip up something delectable.